We had a wonderful time meeting all of our old clients and new ones at the BEAUTY OLYMPIA SHOW in London on October 3 and 4th 2021 and cant wait to meet more of you at the next trade show near you.
ABOUT US
Loved by clients and their professionals alike!
We developed a product for your customers … that you will love.
A better product without compromise on colour clarity, wearability or ingredients.
Now, your salon too can offer a better nail enhancement experience to your clients -  the HEMA - FREE way is a new industry standard.
HOW WE DO IT

Gellifique® Founder has all the skills, market knowledge and first-hand experience working at a white label UV/LED manufacturing facility to offer our customers a fantastic product at a great price point.
OUR PRODUCTS

Due to our formulation, our products have less odour, better pigment and less dermal sensitisation.  
We have over 450 products to choose from including some industry favourites such as Rubber Base, Brush on Builder Gel, Acrylic Gel and much more - all in a HEMA FREE formulation since 2017.
DISCOVER AT THE SHOW
All of the Top and Basecoats as well as extras such as Ultra Seal Gel Coat, Blooming Gel (watercolour, marble design) and Transfer Gel (foil transfers)
100 of our most popular gel polish colours
Autumn 2021 gel polish collection
Apex Gel - brush on builder gel in a bottle,
Hard Builder Gel in a pot
A range of accessories such as nail art brushes, lint-free wipes, swatch book and more,
Acrylic Gel,
Gellifique® Quick Tips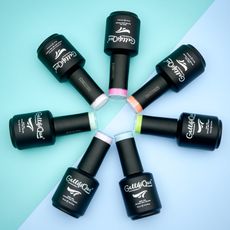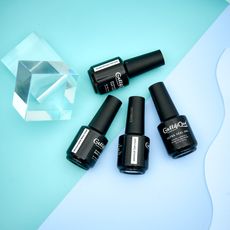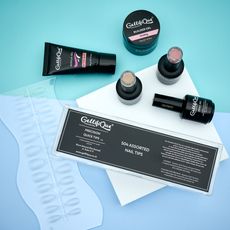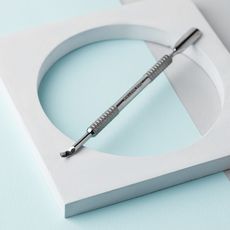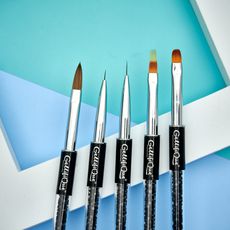 SPECIAL OFFERS
30% off on orders over £250
spend over £500 (inc. discount) and receive our NEW 48W Gellifique® Pro Cure lamp (worth £75.00) and NEW Acrylic Table Top Stand (worth £150) that fits 100 gel polish bottles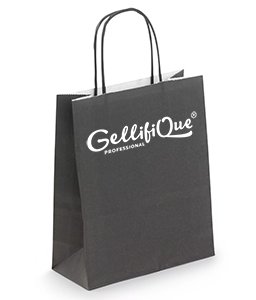 GOODYBAGS
Scan the QR code below and create an account on our website. Make sure to subscribe to our newsletter (we will be checking) and grab your FREE Goody Bag at the event.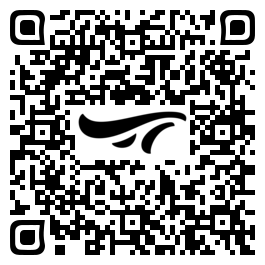 Q&A
Are all of your products HEMA FREE?
Yes, the entire Gellifique® Gel System is free from  HEMA (2-Hydroxypropyl Methacrylate), Di - HEMA, HPMA, Isobornyl Acrylate, THFA (Tetrahydrofurfuryl Acrylate) or Trimethylbenzoyl Diphenylphospide Oxide.
Are your products Vegan 
Yes. There are no animal-derived ingredients in the Gellifique® products.
Are your products Cruelty-Free?
Yes. All of our products, ingredients and prototypes are Cruelty-Free. All of the ingredients making up our products and the necessary data is available in our PIF files which have been reviewed by SGS®.
Why your products don't display the Leaping Bunny symbol?
The Leaping Bunny symbol is a paid service that ranges from $500 - $4,500 depending on the company's turnover. We will utilise this service in the future.
Are your products safe?
Yes, Gellifique® products are manufactured in line with EU Cosmetic Regulations and in accordance with GMP. In line with these Regulations, each product has been certified with SDS and CPSR safety reports, which have been submitted on UK and EU government portals. Our PIF files have been reviewed by the world-leading testing, inspection and certification company - SGS®.
Can I use the Gellifique® system if I have dermal allergies/sensitivities?
In general, based on the reviews and feedback from clients, customers with sensitivities to HEMA only have been able to successfully switch to the Gellifique® system. 
However, allergies and substance intolerances are highly individual. We take allergies to nail enhancements very seriously due to the nature of our business and our recommendation to all new clients with skin sensitivities / dermal allergies is to
discontinue use of all products immediately after developing any symptoms such as itchiness, rash, redness, sensitivity, wheezing, coughing and similar (any brand)
seek medical opinion and testing which can determine specific ingredients which you are intolerant to
ensure to check the ingredient list on every product you consider to purchase
Does Gellifique® offer a UV/LED lamp with its system?
Yes, Gellifique® offers two UV/LED lamps to date. In the past, we have recommended the use of a responsibly purchased 48 W Lamp with 365nm x 405nm specifications. Our current models are manufactured according to the same specification.