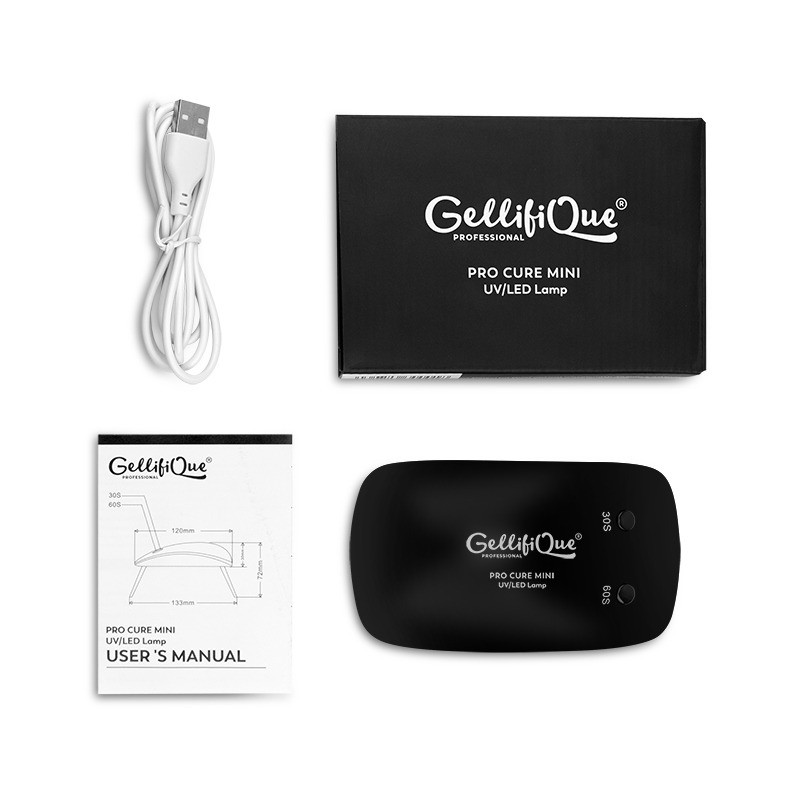  
Gellifique Pro Cure Mini UV/LED Lamp
Product Type: UV/LED Nail Lamp (USB)
Power Output: 6W
Wavelength: Powerful dual optical wavelength of 365nm x 405nm
Dimensions: 210mm x 120mm x 80mm
Warranty: 1 Year (T&C Apply)
Socket Type: USB
Timer: 30s and 60s Timer Setting Buttons
Other: Can Be Handheld or Freestanding
Colour: Black
PRODUCT DESCRIPTION

Gellifique Professional Pro Cure Mini is an ergonomically shaped UV/LED lamp offering portability and professional-grade curing of nail products. It has been created to be used with Gellifique Professional Precision Quick Tips, as the design and its feather-light weight allows the light source to be placed close enough for a "flash cure" to secure the nail tip in place.  
The lamp incorporates a low wattage of 6W output but a powerful cure that can compete with that of larger devices of higher wattage. It's high-quality bulbs which have a life span of 50,000 hours and one-year manufacturing warranty provide a piece of mind. 
Other specifications include 2 timer buttons of 30 and 60 seconds and a dual-mode of use whereby it can be handheld or freestanding.
Our lamp has been tested to cure our range of UV/LED Gel Polishes and Apex Gel and can cure both of these product ranges in 60 seconds (each coat) given the correct application.
Its size provides a degree of limitation to a standard service however, its technical specifications make this a professional grade product. 
WHAT IS INCLUDED
1 Pro Cure Mini UV/LED Lamp 
1 USB Cable
1 User Manual (warranty is included)
Please check our Terms and Conditions for the included warranty with this product
Data sheet
Professional use only

Yes
Specific References
EAN13

5060726300018
Customers who bought this product also bought: