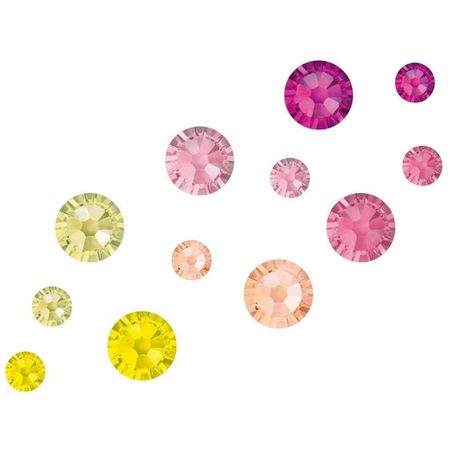  
SWAROVSKI - ROSE GARDEN (200)
(£6.25 ex VAT)
or 6 weekly interest-free payments from
£1.25 GBP
with
what's this?
TYPE: Swarovski® Nail Art Crystals 
SALON SERVICE: Nail Art / No hot fix
VOLUME: Pack of 200
DELIVERY
: 3-5 working days worldwide
PRODUCT DESCRIPTION


This handy packet of mixed Swarovski crystals contains sizes ss5 - ss9 in a variety of colours to perfectly suit the theme Rose Garden.
This is a brand new springtime mix of crystals to add some fun and sunshine into your nail art!
The use of different sized crystals on manicures, known as the rockery effect, is becoming a huge trend in the nail art world and is a stunning and unique finish. Use with pearls to create a design perfect for a funky bride!
Colours include Jonquil, Citrine, Light Peach, Light Rose, Rose and Fuchsia.
WHY UTILISE CRYSTALS IN THE NAIL ART SERVICE

Offering premium quality crystals in a salon setting is a profitable business opportunity. 
You can charge around 20 p - £1 per crystal depending on your local area or;
You can charge for full nail design starting from £5 upwards per finger or;
£40 - £60 for a full Swarovski® manicure or pedicure.
Combined with the Gellifique® UV/LED range of products to adhere the crystals into place your customers will be walking out of the salon with a high-end mani that will stand the test of time.

PREMIUM QUALITY CRYSTALS

Both glass and acrylic crystals don't use the sophisticated cutting and polishing technology that both the Swarovski® and Preciosa® crystals use and therefore do not have the same lustre and sparkle.

You can learn more about the crystals and their differences in the Gellifique® Blog. 
APPLICATION
Pro tip: Ensure not to apply a UV/LED Top Coat over crystals as they will loose their structure and shine. Always work around the crystal to ensure their facets stay clear of the product. 
Complete your UV/LED Base Coat and colour application without applying a UV/LED Top Coat
Crystals can be adhered using a number of Gellifique® products such as UV/LED Rubber Base Coat in thick texture, UV/LED Rubber Top Coat (tack-free) or UV/LED Acrylic Gel in Clear.
Apply a thin coat of the selected product and place the crystals into it, ensuring these do not sink into the product.
Cure for the full recommended time.
Using a Liner Brush 7 mm apply a UV/LED top coat around the crystals and using the product application brush all of the nail itself. 
Cure for the full recommended time.
REMOVAL

Using a pair of old cuticle nippers, gently clip off the remaining crystals starting around the edge. Once you have clipped off the first one, the rest should be fairly easy to remove.
Once this has been done you will be left with bumpy gel so take a nail file or e-file and file this smooth.
You will then be ready to start your gel polish removal procedure.
SWAROVSKI - Crystal - ROSE GARDEN
Data sheet
Professional use only

Yes