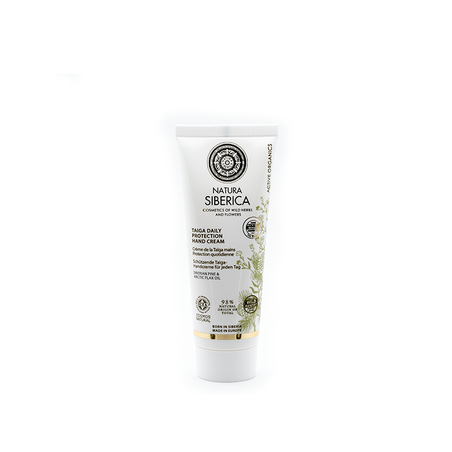  
DAILY PROTECTION HAND CREAM
PRODUCT TYPE: Hand Cream
BRAND PARTNER: Natura Siberica


PRODUCT HIGHLIGHT: Active Organics
VOLUME: 75 ml
TEXTURE: Cream
APPLICATION: Personal Use
PRODUCT FEATURES

Natura Siberica luxurious Taiga daily hand cream deeply nourishes, moisturises and protects hands. Rich in essential amino acids. The wild-harvested Siberian pine soothes and strengthens skin, protecting against the cold and harsh environmental influences. Organic artic Flax Oil heals skin and intensely nourishes hands. Skin will feel moisturised, nourished and silky soft.
A great treat for your own hard-working hands or to retail to your customers.
KEY BENEFITS

UK certified natural and organic beauty product (SOIL ASSOCIATION / COSMOS)
Free from silicones, mineral oils and parabens 
free from PEG, EDTA, BHT and BHA
high-quality natural ingredients 
unique ingredients and their preservation method
ultimate moisture treat for your skin
GELLIFIQUE® BRAND PARTNER PROGRAMME


At Gellifique® we focus on quality products at fair prices. Applying our expertise in trading and international connections we are glad to offer a multi-award-winning choice of HAND, FOOT & SKINCARE products for your salon and personal use through our Brand Partner Programme.

 WHY USE NATURAL SKINCARE PRODUCTS

As a nail technician, you are exposed to chemicals in your workplace on daily basis. However, the chemicals you use in your work are formulated to avoid all skin contact and once cured these chemicals do not have prolonged contact with the skin.

Therefore the team at Gellifique® believes that it is very important to select skincare products that are free of mineral oils, artificial fragrances and colourants. These ingredients will have prolonged contact with your skin and can be quite irritating, besides these factors these type of products also have no long terms effect on the epidermis and simply mask issues such as skin dryness.

Although at Gellifique® we appreciate the importance of chemicals in the Professional Beauty Sector we feel that only the best formulations for prolonged skin contact have a place in our store. Using natural HAND, FOOT and SKINCARE products by SIBERICA® you ensure that the products you apply on your own skin or the skin of your clients have unique moisturising properties which will hydrate and fortify the skin in the long run and rest assured that the ingredients in these products have been grown without the use of pesticides, solvents and have been suitably cultivated and harvested. 
Aqua, Coco-Caprylate/ Caprate, Glyceryl Stearate, Cetearyl Alcohol, Octyldodecanol, Caprylic/Capric Triglyceride, Glycerin, Pinus Sibirica Seed Oil, Linum Usitatissimum (Linseed) Seed Oil*, Amaranthus Caudatus Seed Oil*, Pinus Sibirica Seed Oil Polyglyceryl-6 EstersPS, Pinus Sibirica Needle ExtractWH, Abies Sibirica Needle ExtractWH, Picea Obovata Needle Extract WH, Crataegus Monogina Flower Water*, Achillea Millefolium Flower Water*, Melissa Officinalis Flower/Leaf/Stem Water*, Spiraea Ulmaria Extract*, Bidens Tripartite Flower/Leaf/Stem Extract, Althaea Officinalis Root Extract*, Saponaria Officinalis Root.
Siberica - Taiga DAILY PROTEC HAND CREAM
Data sheet
Professional use only

No