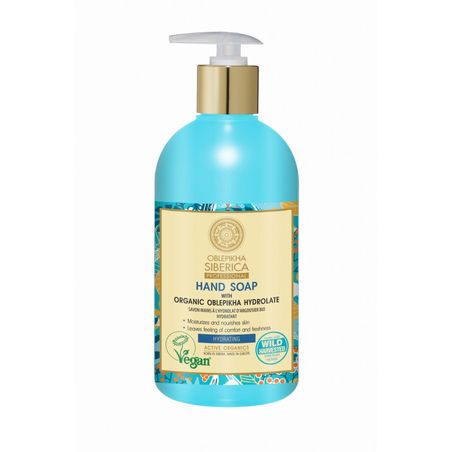  
HYDROLATE HAND SOAP (500ml)
(£4.58 ex VAT)
or 6 weekly interest-free payments from
£0.92 GBP
with
what's this?
PRODUCT TYPE: Hand Soap
BRAND PARTNER: Natura Siberica


PRODUCT HIGHLIGHT: Active Organics
VOLUME: 500 ml
TEXTURE: Liquid
APPLICATION: Professional Nail Service & Home Use


PRODUCT FEATURES
A luxurious cream soap formulated with delicate extracts of Siberian herbs and plants to gently cleanse the skin while maintaining its natural balance.
Wild harvested Rhodiola Rosea, Altai Fescue and organic Bluet replenish natural moisture levels leaving your skin perfectly hydrated, conditioned and silky smooth.
"HYDROLATE" -  a concentrated vitamin and microelement cocktail derived from plants through the distillation process. 
The main ingredient in the "hydrolate" series is the Sea Buckthorn Oil which has been used for centuries in hair and beauty treatment across the globe. This amazing Siberian berry is the richest natural source of beta - carotene, omega 3-6-9 and precious flavonoids. 
UK certified natural and organic beauty product (SOIL ASSOCIATION / COSMOS)
Free from silicones, mineral oils and parabens 
free from PEG, EDTA, BHT and BHA
high-quality natural ingredients 
unique ingredients and their preservation method
ultimate moisture treat for your skin
GELLIFIQUE® BRAND PARTNER PROGRAMME
At Gellifique® we focus on quality products at fair prices. Applying our expertise in trading and international connections we are glad to offer a multi-award-winning choice of HAND, FOOT & SKINCARE products for your salon and personal use through our Brand Partner Programme. 
WHY USE NATURAL SKINCARE PRODUCTS

As a nail technician, you are exposed to chemicals in your workplace on daily basis. However, the chemicals you use in your work are formulated to avoid all skin contact and once cured these chemicals do not have prolonged contact with the skin. 

Therefore the team at Gellifique® believes that it is very important to select skincare products that are free of mineral oils and colourants. These ingredients will have prolonged contact with your skin and can be quite irritating, besides these factors these type of products also have no long terms effect on the epidermis and simply mask issues such as skin dryness.

Although at Gellifique® we appreciate the importance of chemicals in the Professional Beauty Sector we feel that only the best formulations for prolonged skin contact have a place in our store. Using natural HAND, FOOT and SKINCARE products by SIBERICA® you ensure that the products you apply on your own skin or the skin of your clients have unique moisturising properties which will hydrate and fortify the skin in the long run and rest assured that the ingredients in these products have been grown without the use of pesticides, solvents and have been suitably cultivated and harvested. 
Siberica-HYDROLATE HAND SOAP 500 ml 1354E
Data sheet
Professional use only

No