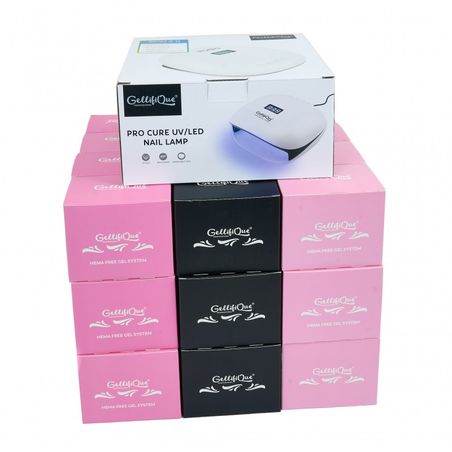  
CORE GEL POLISH COLLECTION KIT + (211)
(£1166.67 ex VAT)
or from
£680.00 GBP
today & 5 weekly interest-free payments of
£144.00 GBP
with
what's this?
TYPE: UV/LED Gel Nail Polish Collection, 48W UV/LED Lamp, Acid-Free Primer, Top and Base Coat.
UKCP Reg. No: 20974962
Gel Polish SDS / MSDS File
ODOUR: Light to None
SALON SERVICE: Gel Nail Polish
VOLUME: 15 ml X 211 colours
CONSISTENCY: Fine to Medium
REMOVAL: Soak Off
DELIVERY: 3-5 working days
PRODUCT DESCRIPTION
If you are ready to switch to an all HEMA FREE Gel System then this is the easiest way to make it happen, with a great saving of more than 36% off! Receive all that you need to get started in just a couple of days, with all items dispatched promptly and safely with UPS. 
The Gellifique® core colour collection has been carefully selected by our experts to create a colour palette that keeps your clients excited about their next appointment.
Want to try the system first instead? Try our range of trial kits here.
See a colour swatch of Coral Reef here.
WHAT IS INCLUDED
211 Core Gel Polish Colours (please see listed below), Acid-Free Primer, Microcrystal Top Coat, Microcrystal Base Coat and a 48W UV/LED Lamp.
All colours listed in bold are from the Gellifique® Autumn 2021 Collection.
1) Admiral, Almond Oil, Amethyst / Grape 04, Aquamarine, Asphalt, Aubergine / Grape 01, Aurora, Aurelia / Platinum 04, Apricot, Ariana / Metallic 05;
2) Biscotti, Black Panther, Blackberry, Blackcurrant / Grape 02, Blanco, Blue Hawaii, Bolt / Smoke 04, Bora Bora, Naturelle, Baby;
3) Blossom, Dark Mocha, Berry, Bordeaux, Bouquet / Peony 04, Bride to Be, Brownie, Brushed Suede, Bubblegum, Burlesque;
4) Cafe Au Latte, Cajun Spice, Camo, Candy Apple / Lora 05, Candy Floss, Carbon / Smoke 05, Carnation / Violet 02, Carolina / Tiffany 02, Cashmere Sweater, Charcoal;
5) Chateau / Rojo 01, Cherry Tart /Rojo 08, Chestnut, Chilli / Rojo 07, Christmas Eve, Cloud 9, Cobalt / Navy 01, Cocoa Nib, Cool Camo, Wisteria;
6) Copacabana / Lolita 02, Copper Spark / Dubai 04, Coral Reef, Cordelia, Cornflower / Tiffany 01, Cosmopolitan, Creme Brûlée, Crimson, Daffodil, Ballerina / Nude 02;
7) Dahlia / Peony 03, Damson / Violet 01, Daydream, Desire, Dolly, Dorothy / Rojo 06, Dreamer, Dubai 06 / Magic, Dusky Rose, Eclipse;
8) Electra, Enchanted Forest / Envy 02, English Rose / Nude 03, Espresso, Euphoria, Exuberance,Fiery Brown, Firework Fuchsia / Rainbow Dust 11, Firecracker / Platinum 09, Flamingo;
9) Forget Me Not, Galaxy, Geisha / Lora 04, Gina / Platinum 01, Glitz / Dimond 04, Goji Berry, Grape / Grape 03, Hazelnut, Heart of the ocean / Rainbow Dust 10, Hibiscus;
10) Hogmanay, Honeydew Crush, Hot Chocolate, Ibiza, Indigo/ Navy 02, Intense Mauve / Cola, Iris, Irish cream, Its a Boy, Jasmine;
11) Jet Setter, Latte, Lavender Haze, Lavender,Lemon Sorbet, Lilac Dream, Lime, London City, Lora 02 / Pinot Noir, Louboutin / Rojo 09;
12) Love Bug, Mademoiselle, Malbec / Rojo 10, Malibu / Lolita 03, Manhattan, Meadowsweet, Melon Cooler, Mellow Key Lime, Midnight Star / Midnight 02, Mile High;
13) Military Green, Mint Breeze, Miss Independent / Tiffany 04, Mrs Clause, Mulberry, Neon Margarita, Nightshade / Midnight 03, Nimbus, North Star / Jewel 07, Nude 01;
14) NYC, Ocean Deep / Midnight 01, Olive, Peach Blush, Peach Bourbon, Peach Blossom, Pearl, Periwinkle, Pine, Pink 01;
15) Pink 02, Pink Carnation, Pink Panther, Pistachio Paradise, Pistachio Love, Platinum Rose / Metallic 01, Plum Jam, Plum Pudding, Plush Mink / Peony 01, Poppy;
16) Pumpkin Spice, Raspberry, Red Hot, Rock Rose / Violet 03, Romance, Rose Quartz, Rose Garden, Rosebud, Rose Tan, Sacramento;
17) Sandstone, Samba, Sahara, Sangria / Rojo 02, Santa Baby, Sapphire / Navy 03, Scarlet, Shamrock / Envy 03, Shimmering Waves / Dubai 08, Shooting Star / Rainbow Dust 09, 
18) Silk Blouse / Claret, Silver Halo / Jewel 03, Silver Rain / Jewel 02, Silverscreen, SkyScraper, Slate, Smoke 02, Smokey Moss, Sophisticated, Starry Sky / Dubai 01;
19) Stardust / Denim, Steel / Smoke 01, Storm, Stormy Purple, Strawberry Bliss, Sugared Almond, Sunborn / Jewel 01, Sunshine, Tangerine Martini, Teal;
20) Thistle, Tiffany / Tiffany 03, Tiramisu, Toffee Nut, Tortoise Shell, Tres Chic, Tropicana / Lolita 01, Truffle, Turkish Delight, Tutti Frutti;
21) Tutu, Twilight, Ultramarine, Urban Chic / Smoke 03, Very Berry, Vino, Violet 04, Vogue, Wedding Day, Wilderness;
22)  Zest.
Whether you are looking for a staple neutral, a pastel, or a neon shade the Gellifique® HEMA FREE gel formula delivers a perfectly pigmented shade each and every time. Learn more about our premium formula below. The product ingredient list can be found under the "product details tab".

PRODUCT FEATURES
100% UV/LED Gel
Light odour
HEMA FREE (hypoallergenic formulation)
Streak Free
No shrinking, yellowing, or under curing
Highly pigmented
Great adhesion and wear on natural nails
Premium quality brush bristles 
Tinted inner glass to preserve the gel and extend shelf life
GELLIFIQUE® FORMULA
Our signature 100% gel line is formulated to deliver superior colour depth and coverage as well as long-lasting wear of 3+ weeks on NATURAL NAILS. Better yet, our products provide peace of mind in their unique HEMA FREE formulation aimed at reducing skin sensitivities. 
Protect yourself, your salon, and your clients from developing dermal allergies to acrylates by using a responsibly manufactured gel system. 

! Please always use the complete Gellifique® system and follow our application guidelines. 

GELLIFIQUE® RECOMMENDATIONS
Please ensure that you have the necessary training to work with this product
Use the Gellifique® complete gel system
We do not recommend using acetone to clean/prep the nails
Use a primer + base coat for better adhesion
Use a responsibly purchased (reliable supplier) UV/LED lamp of at least 48W so the gel cures faster
ATTENTION
Keep away from direct sunlight and UV/LED lights to stop the gel polish from curing inside the bottle
Avoid cold temperatures as it thickens the gel polish
Please read & follow the application guide
P05E-CORE GEL POLISH COLLECTION KIT
Data sheet
Colour Group

Blue / Navy #6fa3de

Density

Opaque

Intensity

Regular

Ingredients

Acrylates Copolymer, Isopropyl Titanium Triisostearate, Trimethylolpropane Triacrylate, Dimethicone, Microcrystalline Wax, Butyl Acetate, Pigments +

CPNP Reg. No

3714851

UKCP Reg. No

20974962

Professional use only

Yes

Available in Spain

No
You might also like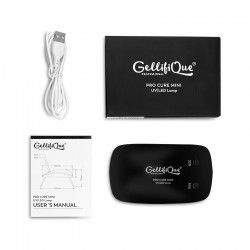 Regular price
£24.50
-20%
Price
£19.60
It looks like you are visiting us from United States. Do you want to go to our European website?